Voice on this side: Namashkar main Amitabh Bachchan bol raha hoon. (This is Amitabh Bachchan Speaking). Voice from the otherside: Wah wah wah, mere aho bhagya mujhe aapse baat karne ka avsar prapt hua. (Its my greatest honour and pleasure that I am talking to you.) Everyone in the audience claps.
I wish I am born as Amitabh Bachchan in my next life. No Sachin Tendulkar, no Mother Teresa, no Diana, no Dhanraj Pillay; but Amitabh Bachchan. The personality is second to non and the charisma he has, is awesome. I want to have a successful career like him and have a career as long as his. The love, affection and respect he gets, where ever he goes is phenomenal.
Here is a snap shot of his life. Born to Harivansh Rai Bachchan and Teji Bachchan on 11 October 1942, he was good for nothing Jawagal Srinath looking guy doing some clerical job in Calcutta in his mid 20s, when one day someone said go to Bombay and Bachchan Saab reached there. Ok ok everyone knows this.
His first movie, Saat Hindustani was released in 1969
Mom saw the movie in her IIT days and was pretty impressed with his performance. She said this to me some 10 years back, "We all were discussing about the tall thin guy who acted brilliantly in the movie" But the movie was a big flop.
For years this tall guy would not get good movies and would do roles next to Rajesh Khanna and one fine day when Dharmendra (who wanted more fight scenes), Rajesh Khanna (who wanted more songs in the movie) and Raj Kumar said they dont want to do Zanjeer, Amitabh Bachchan got the role and became the
angry young man
of Indian cinema.
He made Zanjeer with Prakash Mehra and a legend was born. The movie was an instant hit. After that he made movies like Sholay, Amar Akbar Anthony, Satte Pe Satta, Don, Maboor etc etc, which were super duper hits but his best performance was in Deevar. There were no songs and dance scenes for him in the movies (which was very rare for a hero at that time) because angry men never dance and sing songs and also the director doesn't allow him to smile much. The best dialog which I like in Deevar is :
peeter tum log mujhe dhoondh rahe ho aur main tumhara yehan intezar kar raha hoon.
(knife flies at him and he ducks and throws it back to Peter. Locks the door)
peter yeh chabi aapni jeb mein rakhlo, aab yeh tala main tumhari jeb se chabi nikal kar hi kholunga.
Bachchan saab tusi great ho.
And then the accident during shooting of Coolie and the whole nation prayed together for his health. He was in coma for 3 weeks and he walked after some 3 months ( not me but the tales say so).
There were controversies also in his life. He became the Member of Parliament in 1984 elections and was said to have some involvement in the Bofors case. Apart from that, his personal life was also playing hula hoop because of his much publicised love affair with Rekha and he was going away from his wife Jaya Bachchan. People say Hariwansh Rai Bachchan came in and asked Rekha to step away, which she ultimately did. Yash Chopra even made a movie on it and Amitabh Bachchan flexed his vocal chords in
dekha ek khab toh yeh silsile hue.
By the early 1990s he was angry young man was no more young and was making movies like Toofan, Indrajeet, Jadoogar, Ajooba, Aaj ka Arjun etc etc which were not doing very well on the box office. Some were such big flops thats he thought,
enough is enough and I should do something different
. So in 1995 he launched the Amitabh Bachchan Corporation Limited (ABCL). ABCL ventured into film distribution with Mani Ratnam's 'Bombay'. It also was the principal sponsor of the Miss Universe Contest, held in Bangalore in 1996. Unfortunately, ABCL fell on evil days, buried neck deep in debt. The company's cup of woe ran over when his films flopped miserably at the box-office. And he was again 'written off' by the industry, just as he was in the start of his career.
He could have declared ABCL bankrupt and could have easily forgotten the debts. But he is no less than a hero in real life. He decided to start again but this time it was not the bada parda but the television. Star Plus came up with the idea (borrowed from the west) of Kaun Banega Crorepati and a game show was born which was imitated by all but parallel to non.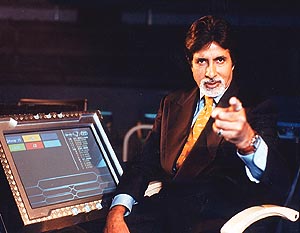 People laughed at his silly "white beard black hair" style and still flocked the TV when the show was on air. I have also watched the show in a Pub, because thats what everyone in the Pub wanted to see. The questions were silly but Bachchan was great. He pulled out stories and gossips that people talked on local trains and buses. The phoenix had risen from its ashes.
Then came his character roles in movies in the 2000s where he played some excellent roles. He acted in movies like Kabhi Khushi Kabhie Gham, Aks, Kaante, Boom, Baghban, Khakee, Lakshya, Kyun...! Ho Gaya Na, Veer-Zaara and Black being a few of them.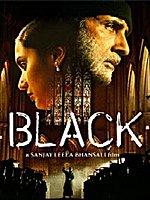 I would say Black is Amitabh Bachchan's post angry young man era best movie. The performance is great and he suits the charatcter a lot. (Rani is also great in that movie)
Bachchan Saab tusi great ho!!! Sat Sri Akal from your fan.
V..